The Sunset Overdrive Wiki is a collaborative encyclopedia project where you can find out about and contribute to everything related to the video game Sunset Overdrive. The Sunset Overdrive Wiki started on June 10, 2013, and currently has 237 articles.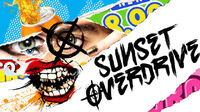 Sunset Overdrive is an open world shooter video game developed and created by Insomniac Games for the Xbox One. The game was announced during Microsoft's E3 2013 press event.
Are you interested in the game?
Create blog post
News
Hello everyone! Just wanted to let you all know that we recently received several new quest walkthrough videos . I have embedded them on a single page for now but be aware that they could be moved in the future as this site grows. Enjoy! 

Read more >

With the attention that Sunset Overdrive has received at this year's E3 event, the Wikia Community Development Team decided to give this site a quick makeover to hopefully capitalize on the excitement about this game. We hope that you guys' enjoy the new look. Also - thanks to Unzipped Zebra for st…

Read more >
See more >