'Sunset Overdrive' Launch Trailer
Play Sound
Sunset Overdrive



Developer

Publisher

Platform

Xbox One, Microsoft Windows

Genre

Mode

Release date(s)

Xbox One: October 28, 2014

PC: November 16th, 2018
Sunset Overdrive is an open world shooter video game developed by Insomniac Games, and published by Microsoft Studios. It was exclusive to the Xbox One, and was announced during Microsoft's E3 2013 press event. It was released on October 28, 2014 for all countries. On November 16th, 2018, the game was released on Windows PCs.
Sunset Overdrive features real-time combat from a third person perspective and high speed  traversal. Like many games developed by Insomniac, the game sports a variety of wild and crazy weaponry.
History
[
]
Insomniac first began working on Sunset Overdrive shortly after the release of Resistance 3. In it's earliest stages, Sunset Overdrive was a DayZ-like zombie shooter. At the time, it was a much more serious endeavor. The tone of the game took a complete 180, however, since the studio wished to go back to their Ratchet & Clank roots.
Insomniac took inspiration from several different things, varying from Popeye cartoons, to Halloween masks. Sunset Overdrive's grinding mechanics are also reminiscent of Tony Hawk skating games.
The game was officially revealed at E3 2013, as an Xbox One exclusive.
Plot
[
]
In 2027, the Fizzco corporation unleashed its newest product upon the public, Overcharge Delirium XT. This extremely popular (and contaminated) beverage has turned nearly the entire population of Sunset City into mutants.
Following the outbreak, several groups of bandits were formed, terrorizing on other survivors. During these troubled times, a lone teenager decides to not only survive, but thrive.
Gamemodes
[
]
Single Player Campaign
[
]
Online Multiplayer
[
]
Development History
[
]
The game began early development near the end of development of Resistance 3.[2] The initial prototype for the game involved co-op gameplay where multiple players would construct forts and fight off demons. In this form, it was a pure third-person shooter game. Over time, the concept merged to a story-driven, open-world game, and the demons were replaced by mutants. Elements of the base defense idea remained however.[3]
At the Gamescom 2014 press conference, Microsoft announced a Sunset Overdrive themed Xbox One bundle, which includes the following:
A digital copy of Sunset Overdrive, a white Xbox One console, and a matching controller (previously only available to Microsoft employees), and various day-one edition digital in-game items. The bundle was available for pre-order on Amazon.com.
System Requirements for PC version
[
]
MINIMUM:
Requires a 64-bit processor and operating system
OS: Windows 8 or higher
Processor: Intel Core i5 3470 @ 3.0hz || AMD-FX-6300
Memory: 8 GB RAM
Graphics: Geforce 750 Ti || AMD Radeon R7 260X
Storage: 30 GB available space
RECOMMENDED:
Requires a 64-bit processor and operating system
OS: Windows 10
Processor: Intel Core i5 4690 @ 3.5hz || AMD-FX-8350
Memory: 8 GB RAM
Graphics: Geforce 970 or Geforce GTX 1060 || AMD Radeon R9 290x or Radeon RX 480
Storage: 30 GB available space
(system requirements taken from Steam store page)
Day One Edition
[
]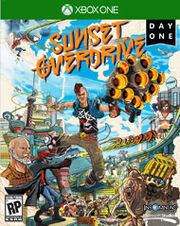 The Day One Edition of Sunset Overdrive is a pre-order exclusive version of the game, and includes the following:
Reception
[
]
Initially, many fans of Insomniac Games voiced their disappointment at Sunset Overdrive being an Xbox One exclusive, considering most of Insomniac's previous titles have been PlayStation exclusives. However, overall reception of the game has been very positive, especially from critics and the Xbox community.
Sunset Overdrive was nominated for 58 nominations at E3 2014, winning 30. Among the categories won were  "Best Original Game" and "Best Action/Adventure Game" from Game Critics Awards.
Trivia
[
]
Gallery
[
]
Screenshots
[
]
Concept Art
[
]
Videos
[
]
References
[
]